These healthy coconut chocolate chip energy balls are made with only 5 simple ingredients. They're super easy to prep and taste like a decadent treat.
If you like coconut and chocolate, you're going to love these healthy coconut chocolate chip energy balls. The recipe is inspired by my homemade coconut chocolate chip Larabars, but in ball form. They kind of remind me of my samoa energy balls, but they're a bit different and more similar to actual Larabars you'd buy at the store.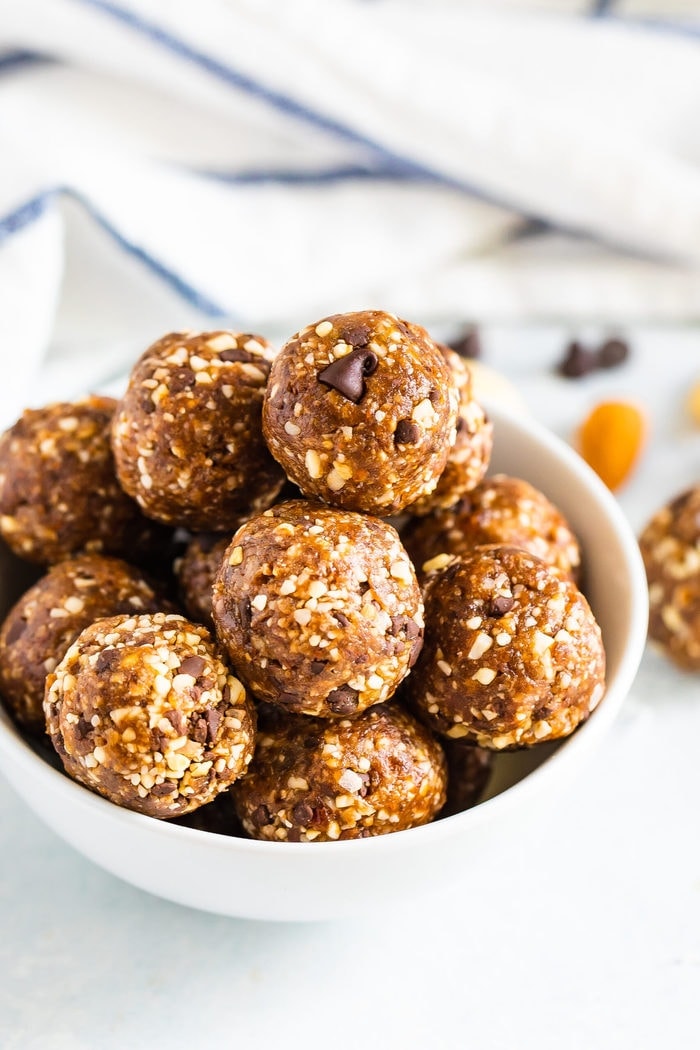 Types of Energy Balls
As you may have guessed, there are so many different types of energy balls and they go by a variety of names too. Some names I've heard: energy bites, energy balls, bliss bites, oat balls and fat bombs. In my mind, there is one thing they all have in common: they're no bake and rolled into balls. Here are some ways they can be different:
Protein – Some energy balls will have added protein powder to obviously amp up the protein, but also round out the snack and make it more filling and satisfying. I personally love making these protein balls.
Date-based – Some energy balls are made with a base of dates and nuts. They are usually grain-free and have no sugar added because the dates add a good amount of sweetness and help hold the balls together. For the date-based balls, you usually need a food processor or blender to pulse the nuts and dates together.
Oat-based – Many energy ball recipes have a base of oats. They are packed with fiber and healthy fats and the perfect on-the-go snack. My peanut butter no bake energy balls are oat-based and so yummy.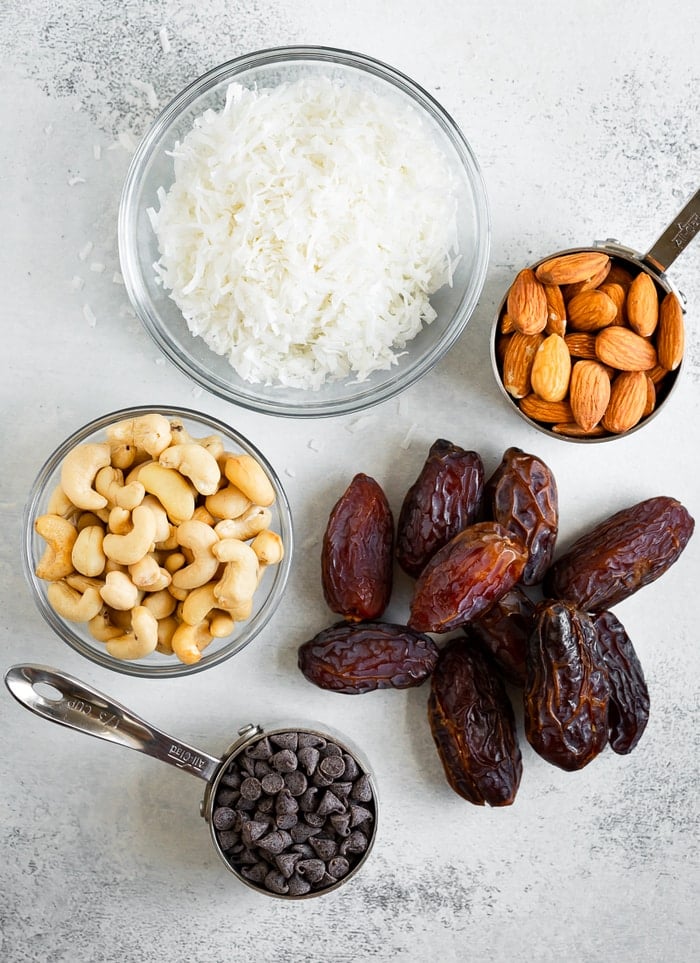 Ingredients in Coconut Chocolate Chip Energy Balls
almonds and cashews – raw and no salt added
Medjool dates – You can buy medjool dates that are already pitted or pit them yourself (it's super easy). Two brands that I like are Natural Delights and Joolies. You can find Natural Delights in the produce section of most grocery stores (near the bananas) and Joolies are offered on Amazon and Thrive Market.
unsweetened shredded coconut flakes – be sure to get unsweetened shredded coconut, not the sweetened stuff.
chocolate chips – I like using dark chocolate chips from Enjoy Life or Lily's. Both of these options are dairy-free and vegan.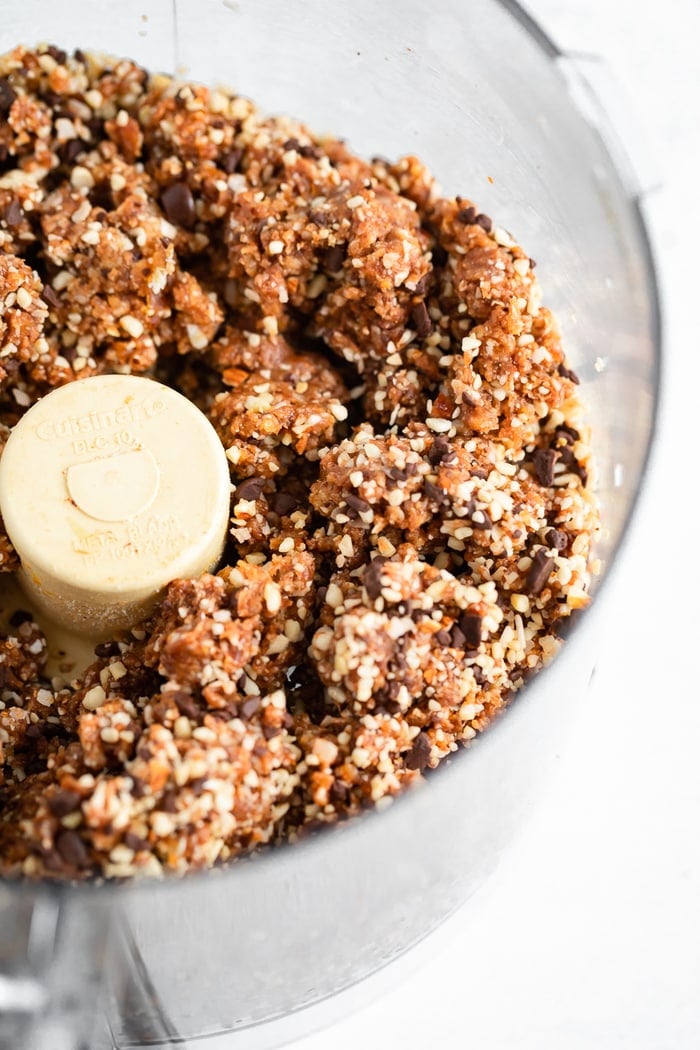 How to Make Coconut Chocolate Chip Energy Balls
Start by processing the coconut, almonds and cashews in a food processor fitted with the S-blade. Pulse until everything is chopped into small pieces. Place the nut mixture in a bowl and set aside.
Add your dates to the empty processor and pulse until a paste forms. The dates will probably mix into a sticky ball – if this happens, carefully break up the ball a little with your hands.
Add the nuts and coconut back to the processor with the dates and pulse until well combined. Add the chocolate chips and pulse a few times until they're incorporated into the dough.
Use your hands to roll about 1 Tablespoon of dough into a ball. Enjoy right away or store for later!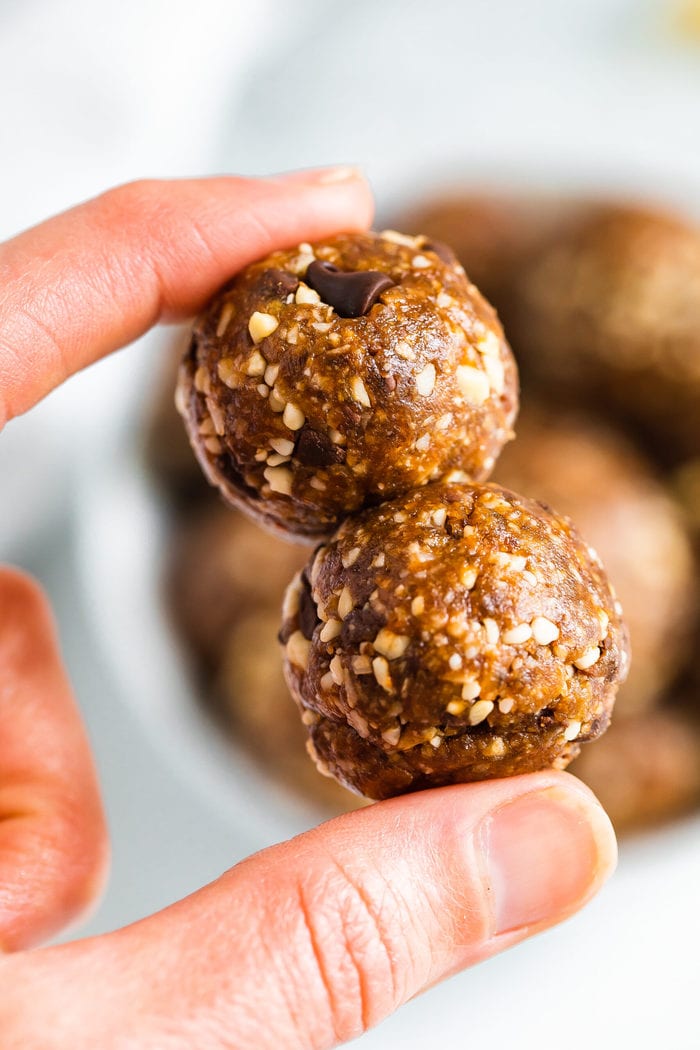 How to Store Energy Balls
You can store your energy balls in an airtight container in the refrigerator or freezer. They'll last up to 1-2 weeks in the fridge and up to 3 months in the freezer. I like using glass storage containers or Stasher bags for storing energy balls.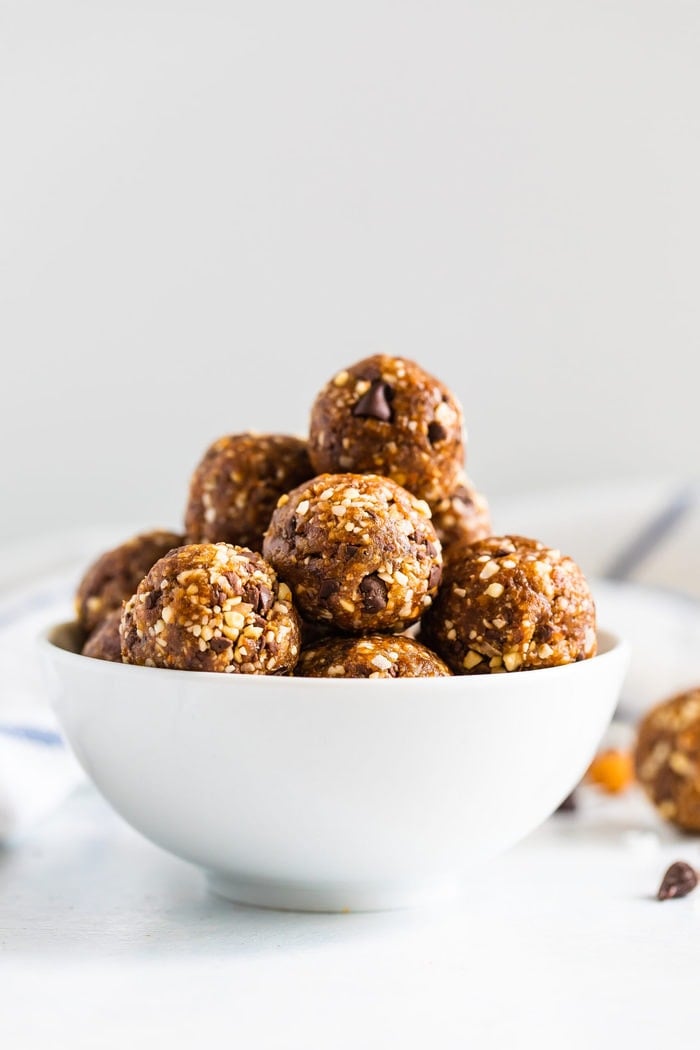 More Energy Ball Recipes
No Bake Energy Balls
No Bake Protein Balls
Blueberry Muffin Energy Balls
Lemon Energy Balls
Apple Pie Energy Balls
Pumpkin Pie Energy Balls
Cherry Energy Balls
If you make these coconut chocolate chip energy balls please be sure to leave a comment and star rating below. Your feedback is super helpful for the EBF team and other readers who are thinking about making the recipe. 
Print
The post Coconut Chocolate Chip Energy Balls appeared first on Eating Bird Food.